The Sandalwood Collection

Zeus is proud to expand our fan-favorite sandalwood grooming tool collection. Each new comb features a key benefit made to improve the grooming routine of even the most experienced beardsman.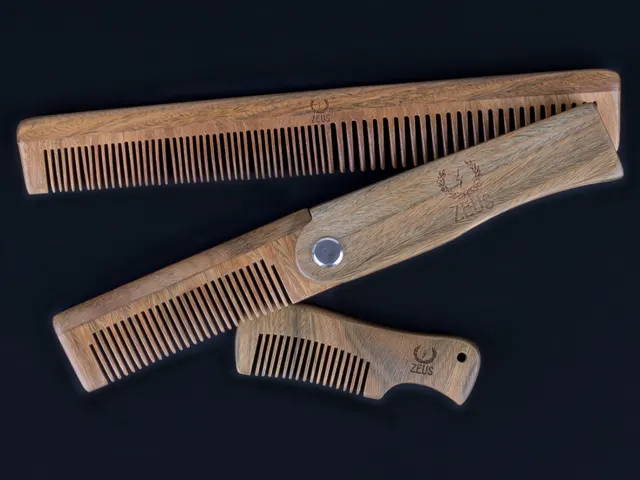 Our combs are made from organic green sandalwood. This dense wood type naturally takes on a green hue as it ages and emits a pleasant, subtle woodsy scent.

Each comb is naturally anti-static. This makes them the ideal grooming tool as they will not cause frizz or breakage, helping your hair remain as healthy.

Each comb is hand carved, assembled, and polished, setting each unique tool apart from the competition.
Review: Sandalwood Collection
"What I really like about these is that the teeth are nicely rounded, and there are no sharp edges on any of these. So you're not going to worry about pulling or tugging any hairs."
"They smell great, they really emit an awesome smell."
Trusted beard aficionado BeardGuyBry reviews all 3 of our new sandalwood combs. See them in action and hear how they measure up against our other fan favorite sandalwood grooming tools.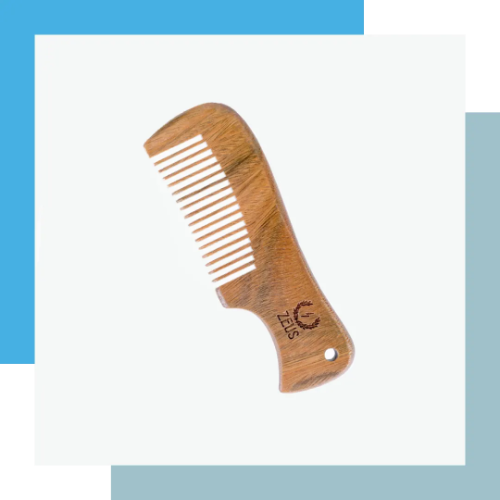 Organic Sandalwood Mustache Comb, B31
'Staches Only
Designed with only mustaches in mind
Keep It Close
Drilled hole allows for key ring attachment.
3" x 1"
Measures 3 in. long and 1 in. wide
Hand-carved from a single piece of organic green sandalwood, this small but mighty mustache comb is all you could ever want. Fine width teeth and naturally anti static properties compliment the combs subtle woodsy scent.  
---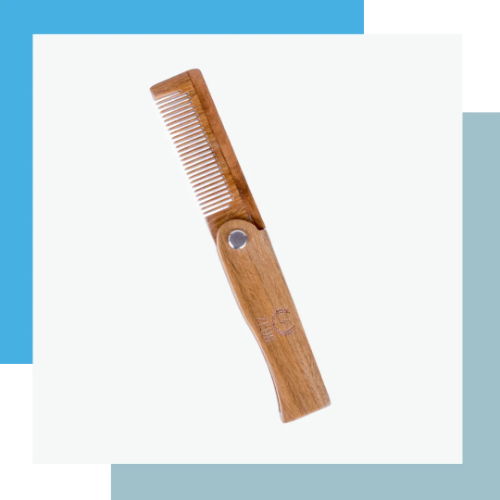 Organic Sandalwood Folding Comb- F31
Bend It
A sturdy, adjustable metal hinge keeps things flexible.
Pocket Friendly
Slim and compact, this comb is made for everyday carry.
4.25" x 1.25"
Open Comb: 7" x 1"
Closed Comb: 4.25" x 1.25"
Two pieces of green sandalwood are held together by a sturdy, adjustable metal hinge. One piece features rounded, fine width teeth for snag free grooming. The other is a slim, hollowed out handle that allows the comb to fold into itself. This compact comb is perfect for everyday carry.
---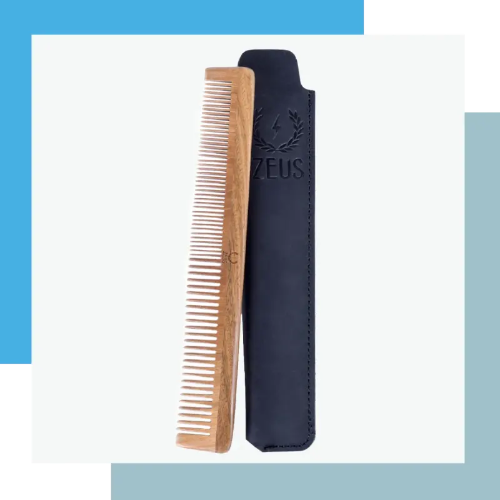 Sandalwood Beard & Mustache Comb w/Leather Sheath- L31
One For All
This comb tackles and tames both beard and mustache.
Genuine Leather
A single piece of thick, lined leather is securely stitched for protection.
7.25" x 1"
Measures approximately 7.25" long and 1" wide
This long, slender grooming tool is hand cut and assembled from 2 pieces of organic green sandalwood. Its even split of both fine and medium width teeth make it ideal for taming all areas of that hairy head. It comes nestled in a thick, soft genuine leather sheath for storage and protection while on-the-go!
---
Shop Our Other Sandalwood Combs